The Plastek Group, based in Erie, Pennsylvania, is a world class manufacturer of plastics packaging for the Personal Care, Home Care, Food & Beverage, Cosmetics, and Pharmaceutical Packaging Industries.
We specialize in Industrial Design, Product and Package Development, Mold Design and Build, Injection, Injection Blow, and Injection Stretch Blow Molding as well as value added Assembly and Decorating.
Since our founding as a Tool Making Company in 1956 Plastek has grown to become a Global Supplier for many of the world's top Companies. We serve our customers with manufacturing sites in the US, UK, Brazil and Mexico.
We can take your product innovations and ideas and create the most efficient, reliable, and high quality Supply Chain possible.
Joseph J. Prischak, Chairman of the Board for the Plastek Group, began his career at Erie Resistor in the molding department, then moved on to the tool room where he took up his apprenticeship. Later, he went to work at Penn Erie Manufacturing where he realized the potential of the tool making field.
Over the past thirty years, Mr. Prischak has stewarded the growth and development of Plastek, taking it from a handful of workers to over 2000 employees. In 1991, he was honored with the "Master Entrepreneur of the Year" Award which is sponsored by Inc. Magazine, Merril Lynch Financial Services and the national accounting and consulting firm of Ernst and Young. He has served on the Hamot Corporators Board, and currently serves on Penn State Behrend Council of Fellows. Mr. Prischak was a driving force behind the development of the Plastics Technology Program at Penn State University, and has supported many other organizations.
With two partners, he founded Triangle Tool Company in 1956. Based in Erie, Pennsylvania, Triangle Tool quickly became a leader in mold design and manufacturing. They developed many of the standards and practices that are used in the tool industry today.
In June of 1999 the company opened its first facility outside the United States in the Mansfield, United Kingdom followed by the opening of a plant in Indaiatuba, Brazil in May of 2000, and an additional plant opening in Hamlet, North Carolina in July 2010.
The group moved into the plastics field in 1971 with the founding of Plastek, also in Erie. Persistence and tremendous commitment to client satisfaction earned molding business from customers such as AMP, Eastman Kodak, IBM, RCA Burroughs, Burndy and Polaroid.
The international foot print and expansion of our growing business continues. In August 2015, The Plastek Group, completed the acquisition of IPQ, adding an additional manufacturing operation in Queretaro, Mexico. In February 2018. a second mid size regional injection molding facility, just 90 miles north of Indaiatuba, was opened in Brazil, with the purchase of Costapacking in Pirassunuga.
When his partners wanted to retire in 1983, Mr. Prischak bought their shares of the business with an eye towards continued growth. Later that year he entered the consumer packaging business with the purchase of Spectrum Molding and Engineering. Plastek quickly captured a large share of the solid deodorant stick container market while maintaining a substantial presence in the automotive electronics and computer industries.
All of Our facilities, are well equipped with a variety of technology, machinery, knowledge, talent and skill that set The Plastek Group up for success.
7 Manufacturing, Assembly & Decorating Facilities
– Spectrum Molding Division(SMD)
– Engineered Plastics Division(EPD) White Room
– Consumer Products Division(CPD)
– Hamlet Manufacturing Division(HMD)
– Plastek UK LTD
– Plastek do Brazil
– Plastek de Mexico
– Triangle Tool Division(TTD)
– Penn Erie Division(PED)
– Plastek do Brazil
– Climate Controlled Manufacturing, Assembly & Decorating, Clean & White Rooms, and Administrative Environments
– Molding Machines ranging from 90 to 950 Ton
– High Speed Assembly, including Inline Closure and Inline Assembly
– Single Face & Stacked Tools
– Modern automated units lessening human handling of product
– Highspeed Cameras Performing In-line Quality Checks and integrated use of lasers
– A work force educated in multiple job related, continuous training programs.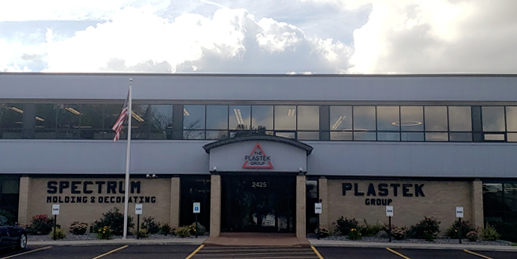 The Plastek Group
Corporate Headquarters
2425 West 23rd. St.
Erie, PA 16506
Plastek UK Limited Crown Farm Way
Forest Town
Mansfield
Nottinghamshire
NG19 0FT
ukinfo@plastekgroup.com
01623 662233
The Plastek Group
Rod. Eng. Ermenio de Oliveira Penteado
s/n – Km 58,2 – SP 75
13337 – 300 Indaiatuba – SP – Brazil
Plastek De Mexico
Parque Industrial Queretaro
Santa RosaJauregui, La Noria
Santiago de Queretaro
Queretaro, Mexico C.P. 76220