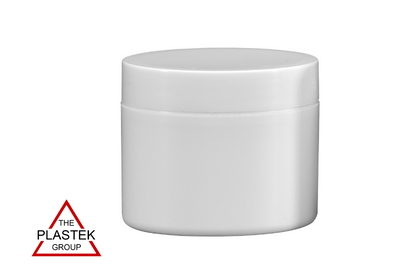 The Plastek Group
Straight Base Jar Containers
Discover the Benefits of Plastic Containers. Looking for lightweight and portable solutions? Designed to thrive in bustling environments, these containers offer unbeatable convenience. Their durability and shatterproof design ensure longevity, even amidst the demands of daily use. The Plastek Group manufactures a wide range of straight base jars with various sizes and cap designs to suit your applications. Whether you need packaging for health and beauty, pharmaceuticals and nutraceuticals, personal care, or recreational products, straight base jars can be the ideal packaging, storage, or organizational solution for you.
Brochure
The Plastek Group
Types of Straight Base Jar Containers
Our straight base jar options include: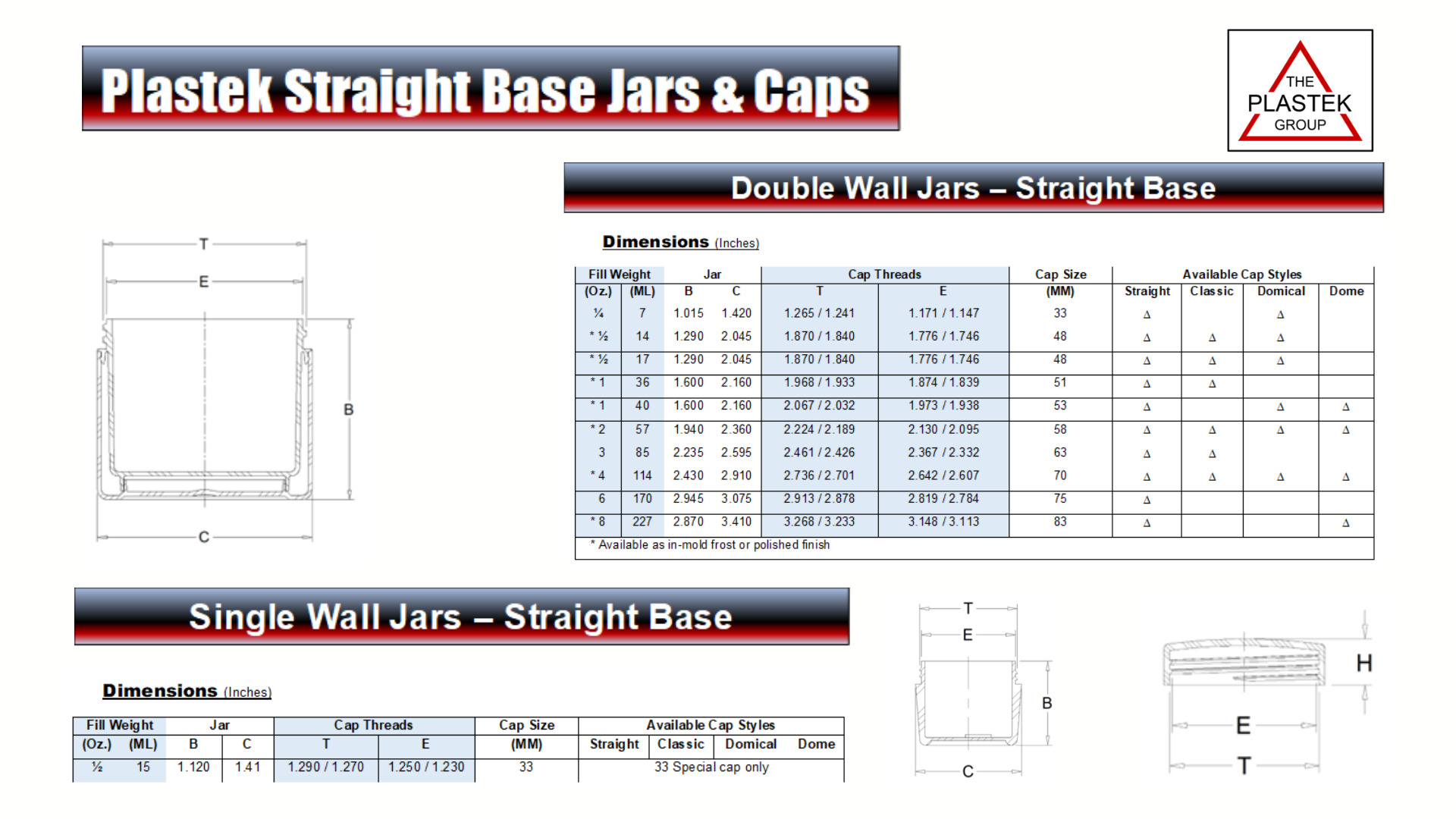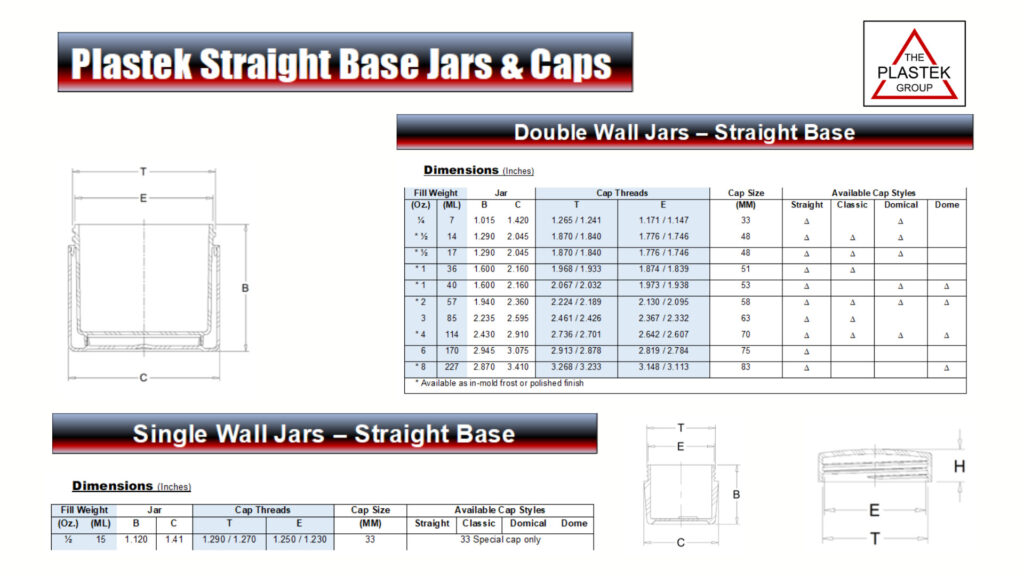 Single Wall: Straight base jars with a single wall work for a wide range of products. We can manufacture these jars with polypropylene (PP), polystyrene (PS) and styrene acrylonitrile (SAN) resin. Choose from organic frost or smooth finish.
Double Wall: Straight base jars with a double wall design have an interior wall and an exterior wall. The interior jar holds the product, and the exterior layer adds extra protection. Double wall exteriors come in polypropylene (PP), polystyrene (PS), and styrene acrylonitrile (SAN) resin. Interior jars are made from polypropylene only. Available finishes include in-mold frost, organic frost, and smooth.
In addition to these jar designs, you can select lid type. Our jar cap options include:
Classic: A slightly rounded top with straight edges and a standard height.
Straight Side: Completely straight top and sides with a thinner construction than our classic cap.
Domed: Rounded edges for a softer, more organic feel.
Domical: Slightly rounded corners for a softer look than straight side caps and more defined corners than the domed style.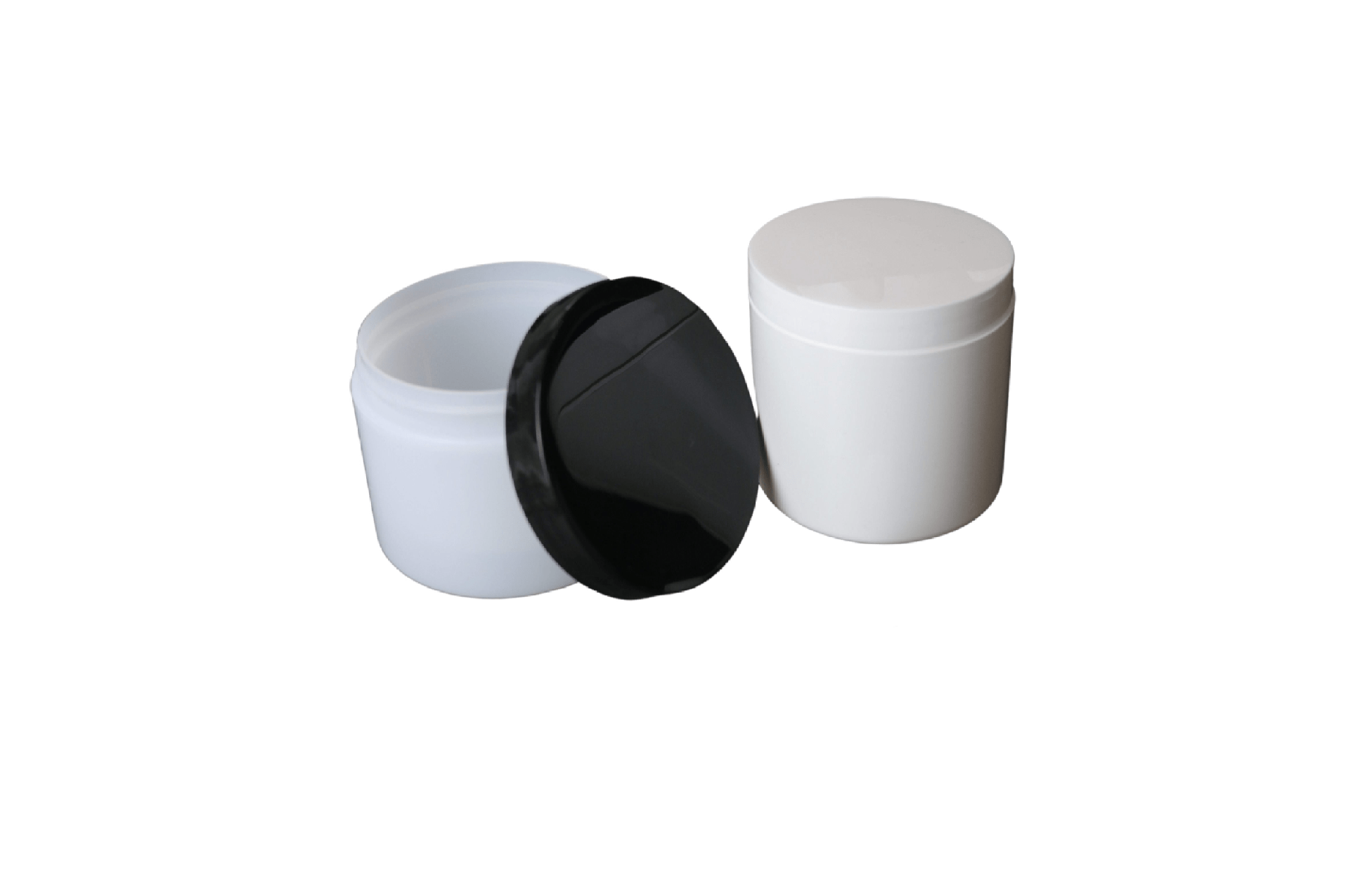 The Plastek Group
How to Find Straight Base Jar Containers for Your Application
When searching for the right straight base jar, consider the following:
Product Requirements: When choosing between a single wall and double wall jar, consider how sensitive your product is to the elements. Products that are more sensitive to light, temperature changes, and oxygen exposure work best with a double wall jar.
Branding: Cap types can be used to create a certain feel or mood for your products. For example, a straight side cap can feel more contemporary and high-end, while rounded caps have an organic feel. Think about your messaging and how cap type fits into it.
Product Use: The amount and frequency a product is used will help you determine what size is most suitable for your application. For example, a lip product is used in small quantities and often carried around, making a smaller size the better choice. In contrast, a body lotion is used in larger quantities and typically kept in one place, so larger jars are more useful.
Contact Us

Contact Us Today for Straight Base Single and Double Wall Jars
Our straight base jars feature single wall and double wall designs to suit your applications. Find a wide range of sizes and configurations at The Plastek Group to create your ideal product packaging. If you need assistance finding the right jar for your product, get in touch with our team or request a quote for more information.