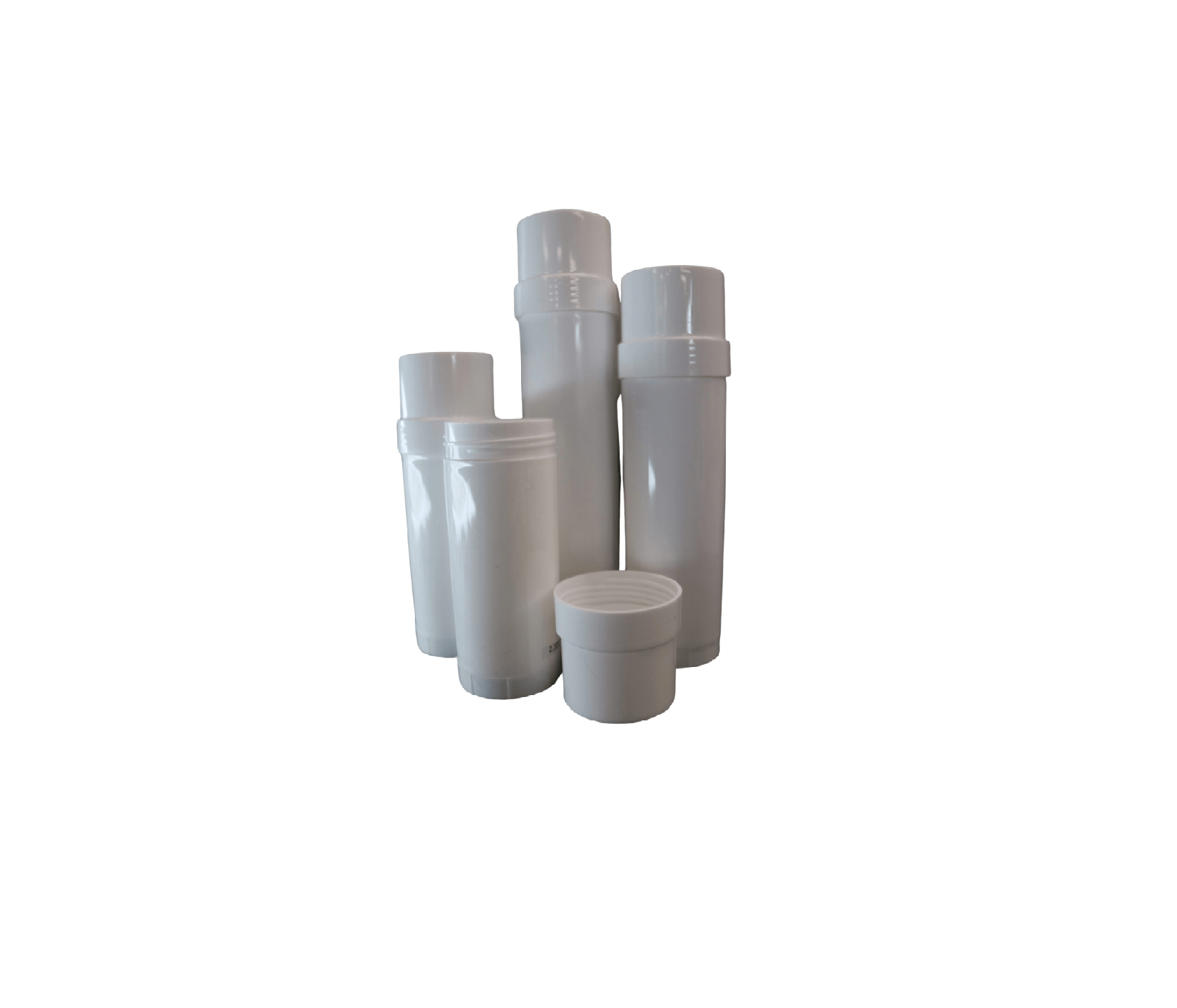 The Plastek Group
Round Stick Packaging
The product use for this style packaging is endless. Round stick packaging is commonly found in personal and pet care industries, popularly used for packaging products like lip, hand, or feet balms, deodorants, and sunscreens. Health and beauty companies also use round sticks for cream blushes, and foundations. Home care, or recreational markets target consumer products like stain removers, auto detailing compounds, sports or shoe waxes, and more.
The Plastek Group offers round twist-up and push-up sticks in a range of sizes to suit your product needs. These packages often store products of smaller quantities for easy storage. They are filled with melted product that becomes solid when cooled and offers easy, mess-free application for users.
Brochure
The Plastek Group
Types of Round Stick Packaging
Plastek manufactures two stock styles of round tube packaging: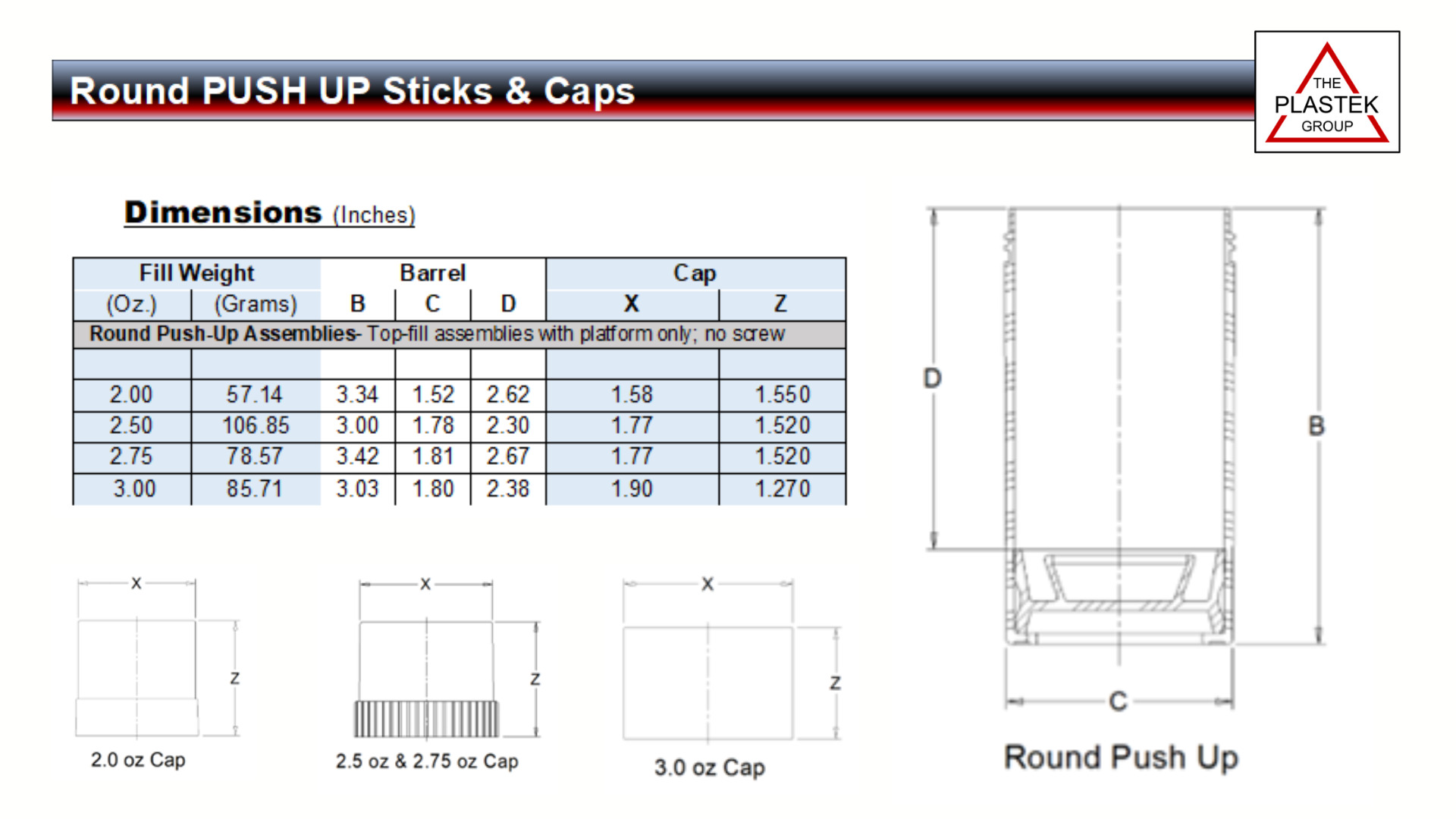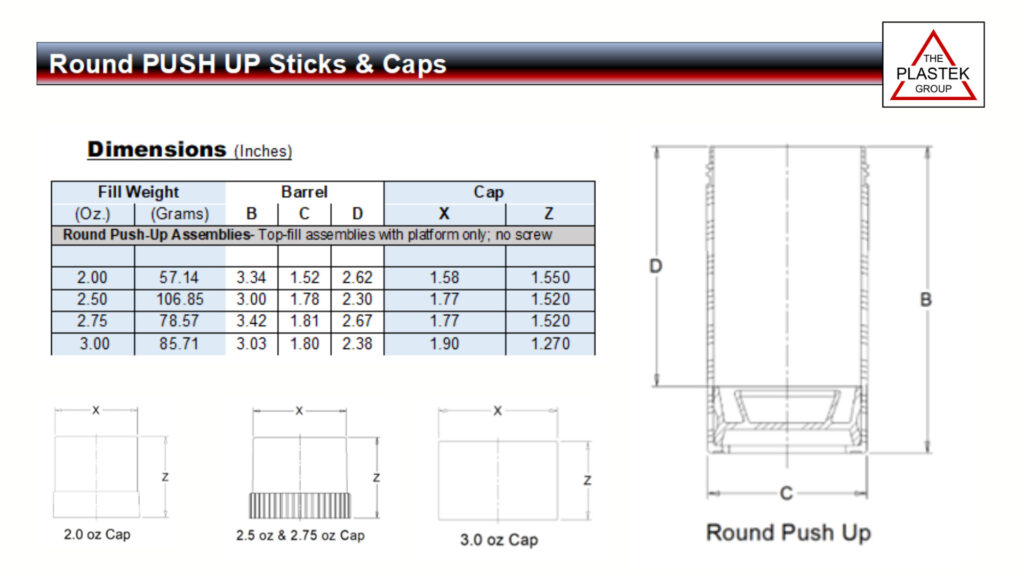 Push–Up: Our round push-up sticks use a simple internal mechanism to move product to the top of the tube. A small platform inside the tube holds the solid product and moves the product upward. Push-up tubes have various cap types based on the size of the packaging.
Propel/Repel: The propel/repel design, or twist-up tube, features an internal corkscrew post that runs through the solid product. As the user twists the bottom, the post spins to move the product upward. Propel/repel tubes have a standard cap design for all tubes except the smallest size.
The barrel, screw, and cap of our round sticks are made from polypropylene (PP). The platforms are made from high density polyethylene (HDPE). We apply a plastic injection molding process to create round stick packaging for various applications.


The Plastek Group
How to Find the Best Round Stick Packaging for Your Application
The push-up and propel/repel designs work well for many types of products, and our team can help you determine which design is more suitable for your product. Considerations for selecting your packaging include:
Product Qualities: When choosing a push-up or propel/repel style tube, you'll want to think about product behaviors. For example, a more oil-based solid like lip balm will likely behave better with propel/repel.
Size: Our round push-up options range from 2 to 3 ounces of product, and our round propel/repel tubes come in sizes as small as .14 ounces and as big as 4.5 ounces. If you're working with product fill requirements needing a broader range of volume, the propel/repel design provides more variable options to choose from.
Usage: Propel/repel packages can raise and lower product easily, while push-up tubes are best suited for only raising product to the top. Consider how your audience will use this product. Will they need to twist the product down to protect it? Will they only push the product up?
Contact Us

Contact Us Today to Request a Quote
Round sticks are a user-friendly packaging option, whether you need twist-up deodorant tubes or convenient push-up foundation packaging. The Plastek Group can help you select the right packaging for your needs, so your buyers have an enjoyable user experience. Get in touch with our team or request a quote today.