PSB School of Engineering – Prischak Robotics and Automation Lab
In our everlasting support of community, and the continuance of growth in educational resources, we're always pleased to flashback to our involvement from the past, and excited when it comes to looking forward to what we can be a part of in the future.
For example, in this case, partnering once again with Penn State Behrend (PSB), it was in the summer of 2022, the announcement was made that, Plastek Industries (DBA The Plastek Group), and the Prischak family, committed to a $1.1 million contribution. This investment would be applied to the PSB Erie, PA campus, and support the start/development of a/the mechatronics focused curriculum.
Moving forward with the 'mechatronics' theme, additionally that summer, in August 2022, two professors from PSB returned "the favor" and partnered with The Plastek Group. Acting as featured guest speakers, PSB's Chair, Polymer Engineering & Science Professor – Greg Dillon, PH.D., and Assistant Teaching Professor of Management & Industrial Engineering – Dr. Yohannes Haile, presented a 45 min webinar titled "Plastics Efficiency Improvement Through Mechatronics," for our Plastek Academy Webinar Series.
A year later, now summer of 2023, (pictured below with Ralph Ford- Chancellor of Penn State Erie, The Behrend College, PSB Students, and others,) The Plastek Group's executive management, and fiduciary board members were invited onsite to PSB's Burke Center, for a tour and presentation, of a new student lab, equipped with state-of-the-art robotics and manufacturing technology.
The new "Prischak Robotics and Automation Lab" at Penn State Behrend School of Engineering is now open.
Upon their return from the tour of the lab, some of Plastek's 2nd & 3rd generation Prischak's share their thoughts on answering these 5 questions:
1. What does it mean to you to see this mechatronics focused curriculum & hands on lab idea/vision come to fruition ?
2. How would you describe the benefits of Automation in the work place ?
3. How would you describe the benefits of this curriculum being offered/included in schools of engineering ?
4. how this investment will eventually/continue to bridge the gap between business and a skilled workforce ?
5. How does it make you feel/what does it mean, that this new addition is located locally, in Erie, PA. ?
Continue below to read their comments to this Q&A.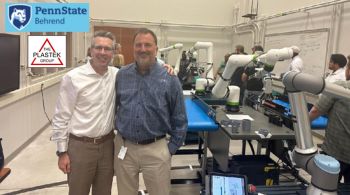 "My Family and I and our entire Plastek Team are very excited to be part of Penn State Behrend's new Mechatronics Lab located right here in Erie, Pa.
As the Plastics Industry and all manufacturing industries continue to grow, automation will play an ever-increasing role in helping us remain competitive and relevant to our customers and is a logical and complimentary "next step" in education to the 4-year Plastic Engineering & Technology Degree started by my father and others in the Erie area in 1989.
Congratulations and thanks to all those at Penn State that helped make this possible. It's good for our company, it's good for the Erie region, and it's good for those that graduate from it and the companies they will work for. "
Dennis J. Prischak, President & CEO of The Plastek Group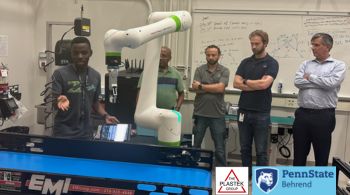 "It brings me great joy to witness the realization of the idea and vision of this new chapter in academic pursuits. As someone who has been part of Plastek's Automation Division, I recognize the transformative power of automation in the workplace. Automation amplifies efficiency, accuracy, and innovation, fundamentally reshaping industries. With the growing demand for smart solutions, your engagement in robotics and automation equips you with the tools to lead a new era in possibilities.
The inclusion of robotics and automation in the curriculum is a pivotal step forward. This specialized focus offers a unique advantage, empowering students to navigate mechanical engineering, electronics, and computer science. As technology continues to advance, this helps position people at the front of innovation, bridging the gap between theoretical knowledge and practical application.
Reflecting on the fact that this incredible opportunity is situated locally, right here in Erie, Pennsylvania, fills me with a sense of pride and anticipation. The impact of this education goes beyond individual achievements; it extends to our community and beyond. The innovation born from this will echo throughout Erie, bolstering its reputation as a hub of technology and learning."
Gabriel Prischak, Operations Manager, Spectrum Molding Division of The Plastek Group
"In an era defined by technological innovation, the symbiotic relationship between automation and the manufacturing workplace has become a driving force for progress. The advantages of integrating automation into manufacturing processes extend far beyond increased efficiency and productivity. The integration of automation technology not only streamlines operations but also ensures safer working environments, higher precision, and enhanced adaptability to market fluctuations. We see this now more than ever at The Plastek Group.
Penn State Behrend's offering of this Mechatronics program will equip students with a deep understanding of cutting-edge technologies, programming languages, and system integrations. Graduates armed with such expertise are not only attractive to potential employers but also have the ability to revolutionize industries. By incorporating hands-on experiences and real-world projects into the curriculum, this Mechatronics program provides students with practical skills that are directly applicable to modern manufacturing environments. Here at Plastek we are looking forward to what these graduates will bring to the workforce.
Plastek has recognized the synergy between academia and industry, that creates a prosperous cycle, as businesses provide input and insights that continually refine college programs to meet evolving industry standards. The advantages of automation in the manufacturing workplace are undeniable, reshaping industries and propelling them into a new age of efficiency and innovation."
Nick Prischak, General Manager, Pioneer Automation Division of The Plastek Group
Two Related Articles:
https://behrend.psu.edu/news-events/behrend-magazine/summer-2023/future-now
https://behrend.psu.edu/news-events/behrend-magazine/summer-2022/advancing-education-and-research